VI Package Manager (VIPM)
Using the LabVIEW Tools Network View
The LabVIEW Tools Network View allows you to browse all LabVIEW tools and addons in one single convenient location. You can sort products and search for the right tool you need to extend your LabVIEW environment.
Navigating the LabVIEW Tools Network Window
This window can be launched from the main VIPM window by:
• Selecting Window>Show LabVIEW Tools Network.
• Clicking on the

button on the main VIPM window.
• You can also launch the window from the Getting Started Window of LabVIEW 2011 or greater. See image below.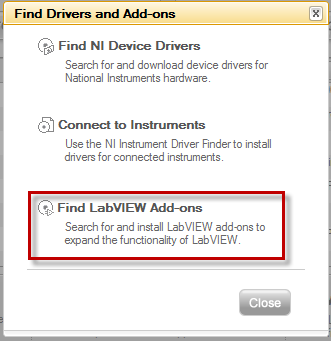 Figure 79 Launching the LabVIEW Tools Network View from the LabVIEW Getting Started Window
The following screenshot highlights each section of the Package Configuration Editor.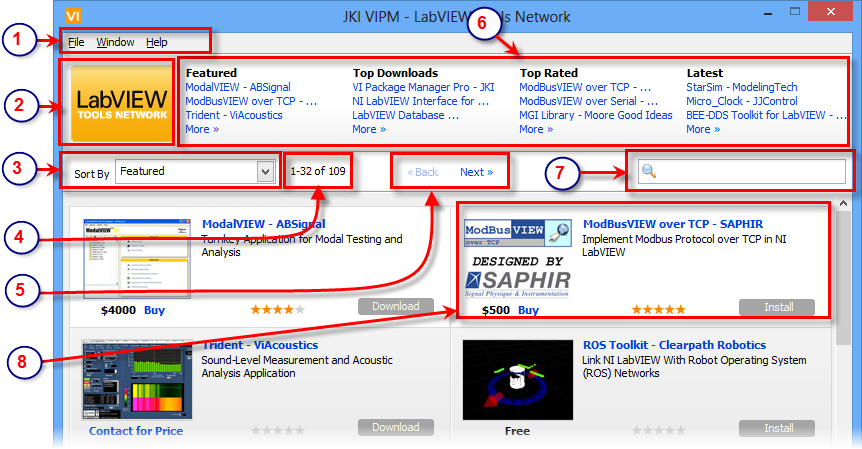 Figure 80 LabVIEW Tools Network View
1. Menu bar
3. Sort Control
6. Top Lists
7. Search
Contributing Your Own Product
The Tools Network provides a free and easy way to host your LabVIEW product. If you are interested in contributing a product, visit the LabVIEW Tools Network www.ni.com/labviewtools and click "Contribute an Add-On to the Tools Network."
Contacting NI
The LabVIEW Tools Network content is managed by National Instruments. If you'd like to give feedback or report any errors with the Tools Network, contact the LabVIEW Partner Program, labviewpartnerprogram@ni.com.
---
Subtopics:

Menu Bar

Clickable Logo

Sort Control

Product Enumeration

Page Navigation

Top Lists

Search

Product Information