Advanced Options – OpenG Package Mirrors
The only setting in the advanced tab is the configuration of the OpenG package mirrors. Mirrors are computer servers that are authorized by SourceForge and are located throughout the world and host the OpenG package files. It is recommended to order the mirror servers in the order you prefer to access them. Click and drag to reorder this list. Most of the time, the fastest server is the one that is geographically closes to your location.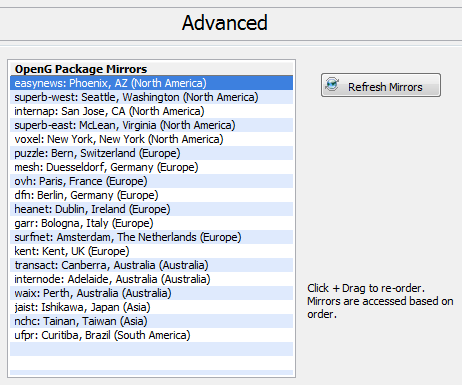 Figure 99 - Advanced options page
VIPM will try all the mirrors in the list in the order they are arranged. If the first mirror has problems connecting it will proceed to the next, etc. Pressing the Refresh Mirrors button will synchronize the list of mirrors over the internet. Any modifications to the list will be displayed in a message box. If there are no changes to the mirrors list then you will see the dialog below which states this.