VI Package Manager (VIPM)
Overview of VIPM Interface
The following screenshot highlights the various parts of VIPM.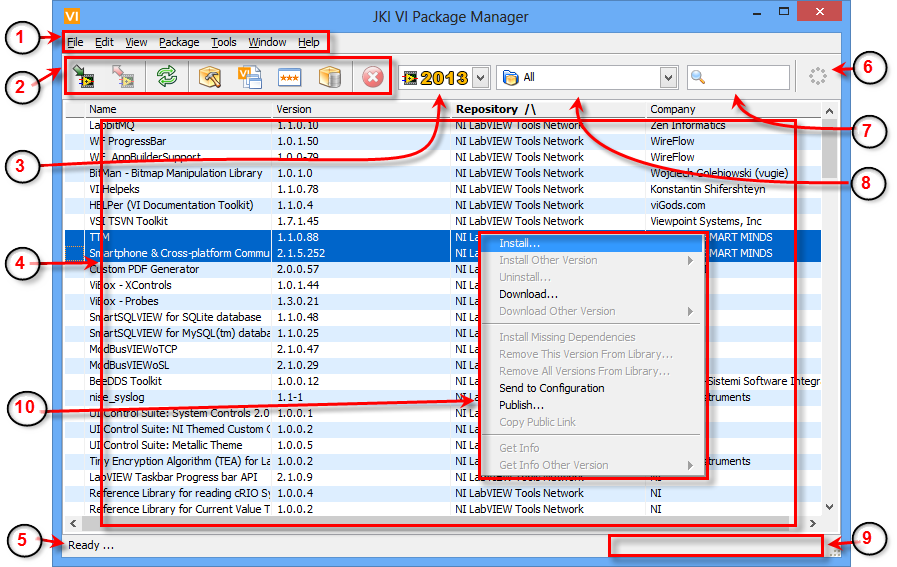 Figure 1 - VIPM Main User Interface
1. Menu: This section contains all the tasks possible in VIPM.
2. Toolbar: This section contains buttons to most common VIPM functions.
3. LabVIEW Version: It shows the current LabVIEW version on which VIPM is operating and allows the user to select/edit the list of LabVIEW versions.
4. Packages List: This area shows the list of packages based on the following:
• Text search
• LabVIEW Version
• Group selection
• Latest installed version
• Installable packages, visible or not from the options
• Deprecated packages, visible or not from the options
5. Status Bar It displays the current action being performed by VIPM in response to the user request.
6. Throbber The throbber animated icon reflects the state of VIPM. It is moving when VIPM is working or else it is static as shown in the picture above.
7. Search: Entering text in here will filter the packages in the list and will display only the packages containing entered text in any of the package details.
8. Package List Groups: This selector allows the user to decide the types of packages to be displayed.
9. Progress Bar: This area will display a progress bar indicating progress of the selected user action. The progress bar is hidden when VIPM is not performing a progressive task.
10. Context sensitive Right-Click menu: When you right-click on a package in the package list you will see a menu of actions to perform on the package. The availability of these items will depend on the status of the package.