Error List Dialog
This dialog assists to debug problems with your installed packages or your package configuration. This dialog can be launched from the Package Configuration Window or the Main VI Package Manager Window by clicking on the error icon in the bottom right corner of the window (

).It is also accessible in the menu by selecting View>Error List.
If there is a problem with dependencies of any package listed, you can find out what the problem is by opening this error list dialog.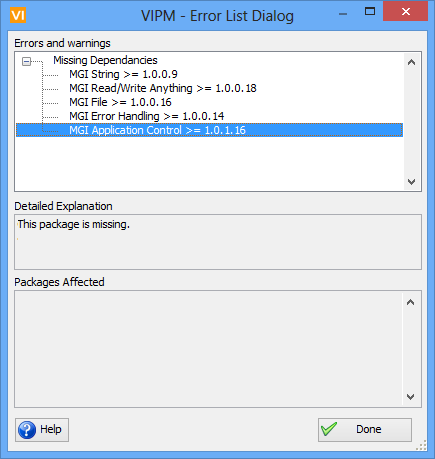 Figure 35 - Error List Dialog
The dialog groups the problems in your configuration under the errors and warning field.
Missing Dependencies: This section lists all missing dependencies. Clicking on a missing dependency will show you which packages are missing dependencies under Packages Affected.
LabVIEW Version Incompatible: This section will list any LabVIEW version conflicts or problems.