Help Menu
The help menu allows you to launch the help system and connect to online resources.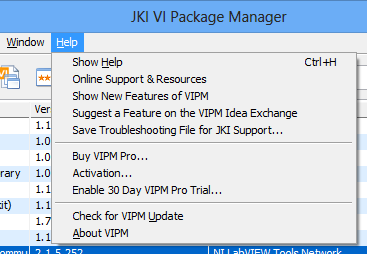 Figure 14 - Help Menu
Show Help: This command opens the installed VIPM help document from your computer in the default web browser.
Online Support & Resources: Selecting this option will open a web page for access to VIPM support resources.
Show New Features of VIPM: Selecting this option will open the VIPM help document that describes the new features and changes in the current version of VIPM.
Suggest a Feature on the VIPM Idea Exchange: Selecting this option will open a web page for access to VIPM Idea Exchange. You can use this to suggest new VIPM features for the next release of VIPM.
Save Troubleshooting File for JKI Support…: Selecting this menu option will allow you to save a special file that contains VIPM debugging information. This file can then be sent to JKI in a support ticket or email as an attachment. You will be prompted for a folder to save the file.
Buy VIPM Pro: This opens a web page where you can purchase a VIPM Pro serial number.
Activation: This displays the VIPM Activation Dialog.
Enable 30 Day VIPM Pro Trial: This opens the VIPM Activation dialog where you can activate a 30 day trial of VIPM Pro.
Check for VIPM Update: This initiates a check if a newer version of VIPM is available and display a message containing the result of the check.
About VIPM: This displays the VIPM about window.